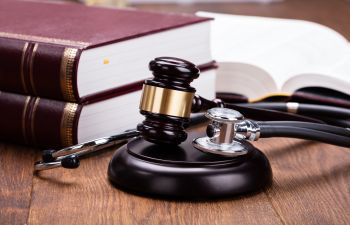 Many people are astonished to learn that the chances of contracting an infection or illness while in the care of a hospital are one in four, or 25%. Nearly 2 million infections reported each year are blamed on hospital or healthcare center negligence. An estimated 100,000 of those are fatal. These serious infections can be caused by viruses or bacteria from surgery or surgical instruments, catheters, IVs, injections, and ventilators. Commonly reported hospital-acquired infections include:
Staph – caused by bacteria, some forms of staph, such as MRSA, are extremely resistant to antibiotics and cause serious problems. MRSA is often spread from person to person by healthcare providers with contaminated hands.
Pneumonia – for people receiving assisted mechanical ventilation, pneumonia is a risk. For patients not on a ventilator, hospital-acquired pneumonia can develop post-operatively.
Urinary Tract – the majority of this type of hospital-caused infection is due to a urinary catheter that remains in the patient too long. Urinary tract infections can affect the bladder, kidneys, ureters, and urethra.
Surgical Site – an infection that occurs at the site of surgery, either on the surface of the skin or internally affecting organs and tissue.
Gastrointestinal – there are several types of gastrointestinal infections that can occur in the hospital or healthcare setting. One that is frequently transmitted through contact with contaminated hands or surfaces is Clostridium difficile, or C. diff. It causes watery diarrhea, fever, and abdominal cramping. In severe cases, it can lead to death.
Bloodstream – central line associated bloodstream infections cause thousands of deaths each year. Hospital workers must be diligent to keep a central line sterile at all times to prevent bacteria or germs from entering the bloodstream.
If you or someone you love were harmed by an infection contracted while in a hospital or healthcare facility, our team of experienced hospital-acquired infection attorneys can help. Tracing the infection back to the hospital and proving negligence can be a complicated process. Our personal injury attorneys have years of expertise and excellent results dealing with healthcare providers, hospitals, and insurance companies. You can count on us to fight for your rights and the compensation you deserve.
Posted on behalf of Burnside Law Firm LLP