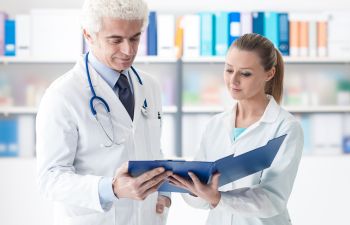 Quality medical care hinges on the communication between a doctor and his or her patient. Physicians possess a wealth of medical knowledge and experience that can benefit you; but they must understand what is troubling you before they can apply that knowledge and experience. In order to make an accurate diagnosis that leads to effective treatment, doctors must listen to their patient.
Communication Breakdown
A communication breakdown between doctor and patient is a serious problem. This can happen for any number of reasons. Sometimes, the patient can be incoherent due to their condition, unable to communicate effectively. In these cases, the doctor must use his or her knowledge and experience, and all the medical testing available, to seek out and treat the problem.
Another reason for communication difficulties can stem from a lack of knowledge. Some medical conditions are not obvious and the symptoms are hard to determine. A patient may not know how to adequately describe their condition or feelings. Again, the doctor must rely on tests, knowledge and experience to try and ascertain the underlying problem.
Sadly, communication often breaks down when the doctor is too busy to pay close enough attention to the patient. Too many patients or other factors can cause the doctor to miss important information. A patient may feel ignored or neglected; or worse, the doctor can make an incorrect diagnosis.
Do Patients Have Any Recourse?
A communication breakdown between a patient and a doctor can have serious repercussions. But do patients have any recourse? What can you do if you feel ignored or neglected by a doctor? Obviously, you have choices for your medical care. If you feel you have received inadequate or incomplete care, express your opinions to the director of the medical facility in question. If no effort is made to correct this problem, seek another practitioner for care.
What happens when miscommunication causes a misdiagnosis or missed problem that becomes more serious? Burnside Law Firm seeks to protect Georgia residents in and around Athens and Augusta when they have suffered a personal injury, and this includes because of medical malpractice. You may have grounds to file a medical malpractice lawsuit because of:
Medication Errors
Failure to Detect & Treat Infections
Misdiagnosis or Failure to Diagnose
Other Malpractice Issues
If you or someone you love has been mistreated by a medical professional and suffered because of it, contact Burnside Law Firm at our Athens or Augusta offices to schedule a personal injury/medical malpractice consultation.
Posted on behalf of Burnside Law Firm LLP