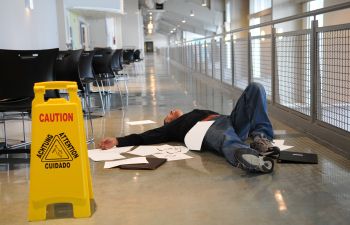 Falls are one of the leading causes of accidental injury. While many falls are mild and don't do harm, in some cases, a fall is the cause of serious injury or death. Millions of people make their way to the emergency room each year because of falls, and a portion of those people are victims of an event known as a slip and fall. A slip and fall occurs when someone slips or trips on someone else's property. Slip and fall accidents are often due to negligence and the property owner may be held responsible. In legal terms, slip and fall accidents are categorized as premises liability claims.
Have you fallen on someone else's property? Have you racked up medical bills because you tripped in a store or restaurant? Property owners can be held responsible when a person falls because they have not maintained safe passages. Leading causes of falls are rugs, icy walkways, hazardous stairwells, and wet floors. According to research and reports, people suffer from injuries that are caused by:
Uneven parking lots and sidewalks
Wet floors
Slippery aisles
Unsecured rugs
Objects falling off upper shelves at home improvement stores or grocery warehouses
If you have slipped or fallen because of someone else's negligence, you have options. Our experienced agents have years of expertise helping people gather evidence to support their slip and fall case. For 40 years, the personal injury lawyers at Burnside Law Firm have been helping people in Augusta and surrounding areas file claims for personal property negligence. We have won thousands of cases and gained compensation for people who were injured in a slip and fall accident.
If you have been hurt on someone else's property, the Augusta premise liability team at Burnside Law Group can help. We will work swiftly to build a case for you with a goal to recover lost money from missed time at work, pain and suffering, and medical expenses. Call us for a free consultation.
Posted on behalf of Burnside Law Firm LLP