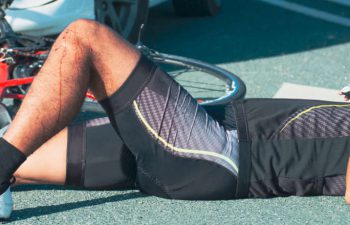 More people are bicycling to commute, for exercise, or just for fun. With the increase in motor vehicles on the road comes an increase in a bicycle/motor vehicle accident. In the state of Georgia, a bicycle is legally considered a vehicle and the person riding the bicycle is considered the driver when it applies to the operation and use of vehicles. Bicycles have the same rights as motor vehicles to use public streets and roads. Bicycles must adhere to the same traffic laws as motor vehicles.
Georgia Guidelines for Motorists
Bicycle riding is not allowed on sidewalks unless under the age of 12 and will be on the road with motorists.
Georgia law states that a motorist must give 3 feet of space between their vehicle and the cyclists.
Bicycles have the right away in designated bike lanes and motorists should always yield to cyclists.
Always yield to cyclists when making a right or left turn. It is difficult to judge how fast a bicycle is approaching.
Watch out for cyclists in low light conditions.
Georgia Guidelines for Cyclists
All cyclists must wear a helmet if under the age of 16 on highways, bicycle lanes, bicycle paths, and sidewalks.
All bikes must have a white light on the front and red light on the back that can be seen from a distance of 300 feet.
When riding on the road, cyclists are to remain as close to the right side of the road as possible.
Cyclists should never ride more than 2 abreast unless in a designated bike lane.
Bicycles must travel in the same direction as motorists.
Experienced Personal Injury Lawyers Specializing in Bicycle Accidents
According to the National Highway Traffic Safety Administration (NHTSA), 783 bicyclists were killed in motor vehicle crashes in 2017. A majority of accidents involving motorists and cyclists could be avoided if they both follow the rules of the road. If you or a loved one was involved in a bicycle accident and have suffered injuries as a result, call Burnside Law Firm today to schedule a consultation.
Posted on behalf of Burnside Law Firm LLP