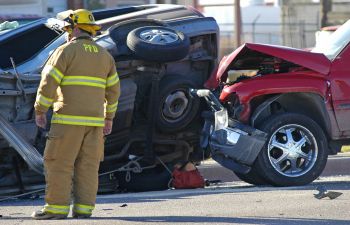 The holidays bring to mind twinkling lights, lots of tasty treats and time with family and friends, but there are also dangers associated with this time of year. Statistics show that auto accidents increase during the holiday season. Here are the top reasons why, and advice on how to stay safe while enjoying the holidays.
Weather
Not surprisingly, one of the main factors in the increase of accidents this time of year is weather. Colder temperatures and snowy or icy conditions contribute to traffic problems. More people tend to be on the roads this time of year as they scramble to pick up gifts and head to Thanksgiving and Christmas dinners. Add to this the fact that daylight savings time means it gets dark earlier, and the road dangers escalate.
Too Much Celebrating
Parties, family gatherings and work functions increase during the months of November and December, which means alcohol consumption increases. According to the National Highway Traffic Safety Administration (NHTSA), 54% of fatal accidents during the holidays are alcohol related.
More Distractions
The holidays are full of wonder, but they are also full of distractions. Between the stress of shopping, increased calls and texts from loved ones and the temptation of holiday lighting displays on every street, it is easy to lose focus behind the wheel.
Ways to Stay Safe
It is possible to enjoy the season while staying safe on the road. Avoid alcohol if you are getting behind the wheel. If the weather is bad, consider postponing that shopping trip or avoiding the holiday party. Make sure you stay focused while driving. Leave the phone calls and texts for when you park the car. If you take the kids out to enjoy the lights, make sure you do so safely. These simple tips can keep you and your loved ones safe for many holidays to come.
If you find yourself involved in an auto accident due to someone else's negligence, contact Burnside Law Firm today and schedule a consultation. Our team can evaluate your case and explain all your options.
Posted on behalf of Burnside Law Firm LLP