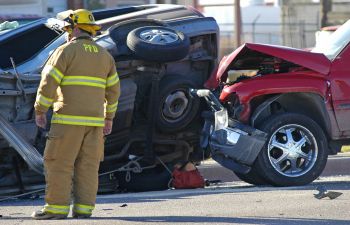 With the holidays approaching, Georgia roads will become more and more congested. While the law enforcement will be out in greater numbers to try to crack down on speeding and limit the number of accidents, the truth is that every year more people are involved in serious car accidents in the state of Georgia.
According to the Georgia Department of Public Safety, the Georgia Department of Transportation (DOT) and the Georgia State Patrol are jointly predicting 2,915 traffic crashes, 1,301 injuries, and 20 traffic deaths on Georgia roads during the upcoming Thanksgiving traffic holiday period. Colonel Hitchens of the Georgia Department of Public Safety's Motor Carrier Compliance Division says that, "Thanksgiving is traditionally one of the busier holiday periods of the year and that increases the traffic volume on our roads. Now through the end of the year is the period when we see a noticeable increase in the number of impaired drivers on our roads." During the past five years, 82 people have been killed in traffic crashes during the Thanksgiving holiday period. There have been 16,171 traffic crashes reported that have resulted in 5,727 injuries.
Impaired driving accounts for a large portion of accidents on Georgia roads. Whether alcohol, excessive speed, fatigue, carelessness, or inexperience are involved, a person's life and future are at stake anytime you get behind the wheel of your own vehicle. No one wants to avoid travel due to the fear of being in a vehicular accident, yet you do want to know that should one occur you will have the fair representation you need. Our practice has helped countless individuals get the financial compensation they need to cover their medical expenses, pain and suffering, and lost income.
At Burnside Law Firm, we will ensure that your rights are protected. Our law firm is experienced in handling tough cases. If you have been involved in an injury or your loved one has suffered wrongful death on account of an automobile collision, contact us for a free initial consultation with one of our experienced Augusta personal injury attorneys. We will fight for you and for justice.
Posted on behalf of Burnside Law Firm LLP