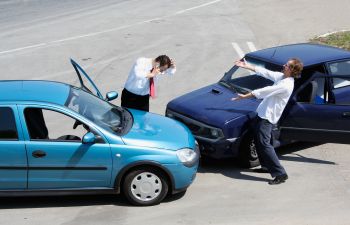 While it's not pleasant to consider the odds of being involved in a car accident, the truth is—nearly 2,000 Georgians face this reality every single day. That's why if you've been involved in a car accident, it's important to understand what to do next.
Because every car accident has its own set of unique circumstances, one or more vehicles may be scattered along the street, and some may block traffic. If this is the case, and there are no serious injuries or fatalities apparent, it is the driver's responsibility to move the vehicle(s) to an emergency lane or median. However, the vehicles must be capable of being moved safely. Next, it's important to report the accident and remain on the scene. All drivers should be prepared to show their license and vehicle registration number.
When there is damage to a vehicle, and it appears that the damage is $500 or more, it's important to exchange relevant information with other drivers at the scene, such as:
Name, phone number and address
The driver's license number
The name of the insurance carrier, or appropriate documentation if a driver is self-insured
Aside from moving the vehicles and reporting the accident, it is important to jot down the events from the scene that you might forget with time. For example, if you detected the smell of alcohol on the breath of another driver, it's important to make a note of it. In the same way, it's important to note the conversations you had with other drivers, officers and your insurance company. In fact, it's wise to obtain the names, phone numbers and addresses of any and all witnesses at the scene. When speaking to the investigating officer, be sure to ask for the accident report number, so that you may pick it up within a few days. Be sure to keep all paperwork related to your accident, as well as photographs and notes taken.
Most importantly, if you are experiencing discomfort or pain, see a doctor—quickly. In the event that you become worse over time, insurance companies will emphasize the fact that you didn't seek immediate medical attention. Thus, even if your pain is minimal, it is always better to get checked out.
The Peace Of Mind You Need
In the moments following a car accident, there is a sense of urgency and panic as frightened drivers and passengers process what just happened. When there are injuries or extensive damage to vehicles, it is even more stressful. Thus, when you are medically stable and need help figuring out what to do next, the experienced personal injury attorneys at the Burnside Law Firm can give you the peace of mind you need as you move forward. Call today.
Posted on behalf of Burnside Law Firm LLP