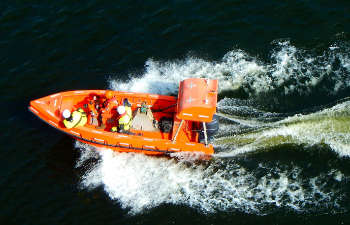 While most Georgia school systems are heading back to school, many recreational boaters continue to enjoy the warm summertime temperatures with time spent on nearby lakes. However, not everyone is an experienced boater, and many are ill prepared for a boat collision or accident, not to mention severe weather and other unfamiliar conditions. What's more is that some operate a boat while under the influence of alcohol. Given the unpredictable nature of boating accidents and the circumstances surrounding them, it's important to contact an experienced and trusted personal injury and/or admiralty and maritime attorney if you've been involved in a boating accident.
Georgia law maintains a standard for those operating a boat. For instance, a "reasonable boater" is one that carefully follows all safety rules, and is vigilant regarding passengers and other boaters. By contrast, if a boater displays irresponsible or negligent behavior that puts passengers and others at risk for injury, the boater can be considered "at fault," and is subject to civil or even criminal liability. This means that victims of boating accidents can seek damages and compensation relating to their injury, including medical expenses, loss of wages and more.
Surprising to some, if the owner of a boat allows a family member or close friend to operate it, and passengers or other boaters are injured as a result, the owner can be held liable. This is because the owner of a watercraft (any boat or vessel) is deemed responsible for any injuries related to its operation, no matter who is driving it. Similarly, if the owner of a boat gives permission for someone else to operate it, and that person operates it in a reckless manner, the owner can be held liable. Therefore, for owners of boats and other watercraft, it's important to commit to all safety precautions. Moreover, it's equally important to give careful consideration to those that you allow to operate it.
We Help Injured People Obtain Justice And The Compensation They Deserve
When it comes to representing injured people that have been involved in boating accidents, our goal remains simple—to help them obtain justice and the compensation that they need and deserve. At Burnside Law Firm, we understand that it's difficult to estimate the full impact of these injuries, as they often involve ongoing medical care, loss of wages, counseling and more. Thus, as victims recover, we work diligently behind the scenes to gather all of the facts pertaining to their case in order to help them discover the most favorable outcome possible.
For a confidential consultation, contact Burnside Law Firm in Athens today.
Posted on behalf of Burnside Law Firm LLP