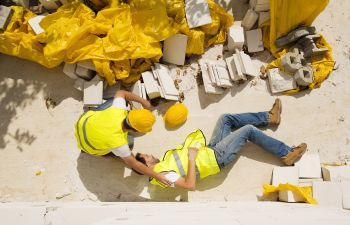 Construction sites are often a breeding ground for accidents. With different contractors bringing in their employees and a plethora of tools, equipment and debris, there are far too many ways serious accidents can happen. While the site owner or construction company is ultimately liable, contractors can also be liable for accidents, as can equipment manufacturers or other deep-pocket defendants. The multitude of guilty parties in a construction accident is only the first reason you should consult with an experienced attorney before moving forward with anything after a construction accident.
Direct Compensation for Injuries Due to Accidents
When an employee is hurt on the job, workers' compensation often covers the costs of recovery, along with a partial salary until a return to work. Workers are generally considered employees of the main contractor on a job site or employees of the sub-contractor.
However, construction accidents can be caused by things other than an error in judgment or a simple mistake. Sometimes, the cause is traced to a third party at fault for the accident, whether through equipment neglect, faulty equipment or other causes.
As an injured employee, you may be entitled to direct compensation for your injuries, your pain and suffering and the loss of any future income. However, things can get complicated in a hurry, and you need a qualified attorney on your side.
Construction Accident Claims Need Experienced Attorneys
OSHA sets strict rules regarding worker safety on construction sites. The rules are in place to protect employees and influence companies to provide safe construction sites.
According to OSHA, the top four causes of fatal construction accidents are falls, Caught-in/Between, Struck-by and electrocutions. Each of these causes can be subject to third-party liability. Determining who is at fault and proving that can come down to the experience and skill of your attorney.
Having an attorney who will fight for your right to compensation for your injuries or the loss of a loved one is critical. The third-party companies will have insurance companies fighting on their behalf. Walking in fully prepared because you chose a qualified, experienced personal injury attorney is how you fight back. Contact Burnside Law Firm to schedule a consultation for your construction accident death or injury. We will fight for you.
Posted on behalf of Burnside Law Firm LLP