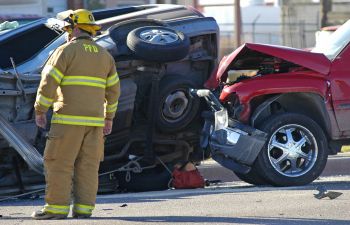 No one expects to be involved in a car crash, yet even the most focused drivers can end up being knocked sideways or pushed into another vehicle. Suppose this happens, and in the aftermath of the impact, you discover that you are seriously injured or that your vehicle is heavily damaged. Imagine the frustration when you find out that the driver who caused the accident is uninsured. Who will pay for vehicle repairs? Most importantly, who will be responsible for medical care?
The state of Georgia requires all drivers to carry automobile liability insurance in order to compensate for injuries and other damages caused during a car accident. Yet,if you've been injured in a car wreck with an uninsured driver, you understand that not everyone complies with this law. Moreover, while Georgia as a whole has a lower than average number of uninsured drivers, there are some with absolutely no insurance coverage at all.
Because the likelihood of obtaining compensation from an uninsured driver is minimal, it's important to find out if there is uninsured/underinsured motorist coverage on your personal automobile insurance plan. Though it's not required, insurance companies do offer it as part of their insurance package. Thus, if this is included in your plan, it can provide coverage for damages caused by uninsured drivers, as well as those with insufficient coverage.
Even so, insurance companies employ numerous strategies to minimize or deny claims. For instance, a company might blame a different individual for the accident, or they might deny that one's injuries were a result of the car crash. In other cases, they may simply claim that injuries are not serious enough to qualify for a certain amount of compensation. In other words, while you are paying for your own auto insurance policy, it doesn't guarantee that your insurance provider will be on your side and willing to pay.
We're Here To Answer Your Questions—Call Today!
At Burnside Law Firm, we realize that as Georgia roads become more congested, more people will be involved in car crashes, and some of these accidents will involve individuals with little to no insurance coverage. If this has happened to you, we're here to help answer your questions and address your concerns. Call us today for a free initial consultation to discuss your claim.
Posted on behalf of Burnside Law Firm LLP