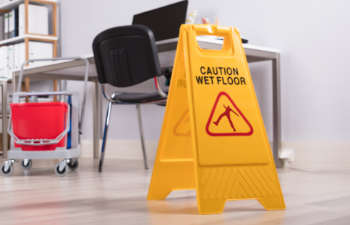 Slip and fall injuries vary widely depending on the type of fall, the location in which it happened and even your health condition at the time. Healing from these injuries will require immediate diagnosis and medical care for any injuries at the time of the fall. But what does that healing look like?
Cuts and Abrasions
These are the most common slip and fall injuries. Most need very little treatment outside of stitches, or perhaps preventive measures such as a tetanus shot. Even though cuts and abrasions may seem minor, it's still important to seek medical care, as they may be hiding more severe injuries underneath. Medical treatment may also help prevent complications from infection.
Soft Tissue Injuries
Some injuries aren't noticeable at first, but symptoms start showing up in the days or weeks after the fall. Getting immediate care could help diagnose these injuries sooner so treatment can begin before those symptoms start, sometimes preventing or minimizing long-term, chronic symptoms. Even a minor sprain could leave you vulnerable to re-injury in the future. Prompt treatment based on the type of injury could help prevent this.
Broken Bones
Many instances of broken bones after a slip and fall injury are easily diagnosed. Even if you aren't sure of the exact problem, you will most likely know there's something wrong due to the swelling, pain and bruising that develops soon after the event. However, not all fractures are so easily identified, and you may still be able to move just fine. A minor crack in a bone could cause long-term pain if not treated promptly and adequately. Treatment for broken bones usually involves some form of stabilization.
Head Injuries
Head injuries are more common than you think during a slip and fall. You may hit your head on something on your way down or on the ground. A mild concussion may seem innocent enough, but symptoms should be monitored closely for any signs of more severe damage. The impact can cause a bruise to form under your skull, leading to more severe symptoms, and some injuries could be life-threatening. From a slight concussion to a traumatic brain injury (TBI), healing from a head injury looks very different for everyone.
Spinal Cord Injuries
These types of injuries are sometimes the most damaging, and for the family as well. They can cause temporary or permanent paralysis in the worst-case scenarios. Depending on the injury, treatments could take months or even years. Spinal cord injuries in a slip and fall are typically some of the most expensive to treat as well. However, there are now more advanced treatments available specific to the type and location of the injury.
If you've suffered injuries from a slip and fall in Georgia, contact the Burnside Law Firm today for a free consultation.
Posted on behalf of Burnside Law Firm LLP