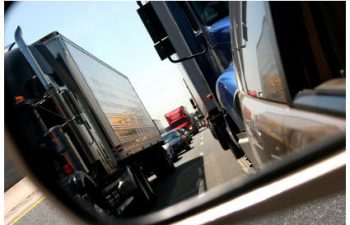 Chances are, if you've traveled Georgia freeways, you've seen trucks transporting various materials and cargo. While federal regulations are in place regarding how materials are loaded and secured, there are instances in which materials surpass weight restrictions or are not safely contained. As such, debris can fall from a truck, causing hazardous conditions for other drivers. If you've been injured as a result of falling debris from a truck, it's important to contact Burnside Law Firm to discuss your options for pursuing compensation.
Imagine you are coasting down the highway when a sharp object from the truck in front of you flies into your windshield, shattering the glass. In another case, suppose a box of heavy objects shifts out of place and falls out of the truck, landing in the middle of your lane. These situations are not only scary—they can become a catalyst for a serious accident. Yet, what many do not realize is that falling debris from a truck could be attributed to negligence, especially if federal restrictions were violated.
Even so, proving that a truck driver or trucking company was negligent is a difficult and complex process. A thorough investigation is necessary, and witnesses are important. What's more, trucking companies are protected by teams of legal professionals ready to fight on their behalf. That's why uncovering important facts and details are paramount to a successful claim. In turn, if the falling debris has remained in the middle of the highway for some time, and results in an accident, the city and/or county responsible for road maintenance could be deemed responsible. In this instance, it must be proven that the agency in charge of clean up had enough time to remove the debris or post warning signs, yet failed to do so.
If you've been injured by falling debris from a truck, and you're wondering what to do next, the experienced attorneys at Burnside Law Firm want to help. We understand that though truck drivers are heavily regulated through federal laws, they can make mistakes on the road like any other driver. Thus, if a truck was overloaded or if materials were unsecured, or if road conditions caused debris to fall from a truck, and you were injured, we'd like to know.
Call Burnside Law Firm for a free consultation to examine your claim.
Posted on behalf of Burnside Law Firm LLP