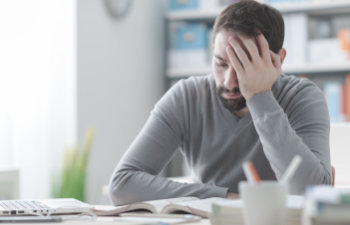 Head injuries can cause trauma to the brain, which can have devastating consequences. Traumatic brain injuries or TBIs vary in severity, but even a mild TBI may have long-lasting symptoms. The issue with TBIs is that not all symptoms are noticeable right after the event. Many people who suffer a concussion or other type of brain injury may have what are called delayed onset symptoms. If you suffer a head injury in an auto accident, fall or other personal injury, it is vital to be aware of the possibility of delayed onset of TBI symptoms.
What Are Traumatic Brain Injuries?
Traumatic brain injuries occur when the head is jolted or impacted. Hitting your head during a fall or car crash can result in a TBI. These vary from mild concussions to severe brain damage. TBIs can affect everything from speech, cognitive function, memory and behavior to voluntary movement and attention disorders. Many possible TBI symptoms can occur within 24 hours of a head injury, including:
Headaches
Dizziness
Vision problems
Fatigue
Vomiting
What is concerning is that there are many times that symptoms are extremely mild or non-existent. Victims of a TBI may report no symptoms and may not pursue an injury claim after an accident. However, this can be far from the truth and weeks, months or even years later, they may have evidence of severe brain trauma.
Types of Delayed Onset TBI Symptoms
Many delayed onset TBI symptoms are cognitive in nature, but they can also present as physical or emotional problems. Physical symptoms tend to appear first in the hours and days after the injury. Patients with mild TBIs may have no symptoms within the first two weeks, but many people with these injuries notice symptoms within a year after their injury event. Some of the possible delayed onset TBI symptoms that can appear include:
Dystonia – a change in muscle tone
Emotional disorders, including panic attacks, depression and anxiety
Mental health or psychiatric conditions
Sleep disorders
Learning disorders (especially in children)
ADHD and other attention disorders
Seizures
Increased headache or migraine frequency
Weakness in limbs
Memory loss
Communication and behavioral issues
This is only an abbreviated list of possible delayed onset TBI symptoms. Many people have these long-term conditions and may not realize they are caused by a traumatic brain injury that occurred months or years before.
What to Do If You Have a Head Injury
It is vital that you seek a medical examination after sustaining a head injury. If your injury occurred in a vehicle accident or other event caused by negligence, you need to have medical evidence that a head injury occurred. This could be important if you have delayed onset symptoms of a TBI that impact your physical, emotional, or cognitive health.
If you sustained a head injury and are now experiencing TBI symptoms, you may be eligible to seek a personal injury claim against the responsible party. To speak to one of our legal team at Burnside Law Firm, call our office in Augusta or Athens, GA. We offer free legal consultations to discuss personal injury claims – contact us today.
Posted on behalf of Burnside Law Firm LLP