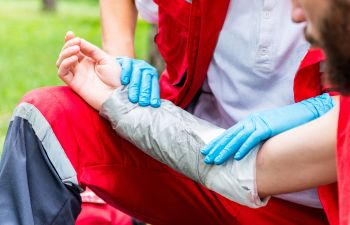 Winter means cold weather and increasing moisture levels. These factors combine to significantly increase the risk of slip and fall injuries while you are out shopping or visiting loved ones. Don't create an unwanted holiday memory of a slip and fall accident and serious injury. Follow these simple steps to be prepared.
Be Aware of Conditions
Being prepared begins with being aware of outside weather conditions, both locally and at your destination. Take a few moments to discover the outside temperature, weather forecast and any advisories that may be in effect. It may be wise to postpone your trip for a safer time. This can even include shopping or traveling during daylight hours instead of after dark, when conditions are prone to change rapidly and vision is restricted.
Dress Accordingly
Dress appropriately for the weather conditions outside. Although you may spend only a few moments in the cold or snow, you should be prepared to endure it and travel safely. Dress in layers for warmth (these can also be easily removed indoors for comfort) and wear a warm, moisture-resistant coat, hat and gloves. Pay particular attention to your footwear, and choose items that are warm, moisture-resistant and provide superior traction on rough, wet or slippery surfaces.
Pay Attention to Your Environment
We often become preoccupied with getting to our destination or what we must accomplish once we arrive, and do not pay attention to the surrounding environment. Be on the lookout for broken or slippery walking surfaces, or debris that could cause a slip and fall accident. Watch where you place your feet while walking, getting into or out of a vehicle and when exiting buildings.
Know How to Get Help
Keep a phone handy and call 911 if a slip and fall accident occurs. If you are unable to do so, ask someone nearby for assistance. Always submit to a physical examination after a slip and fall accident, even if you seem uninjured. Some trauma is delayed in presenting itself.
Commercial and private property owners have a duty to keep their property safe for the public and guests. If your slip and fall accident is due to negligence on the part of the property owner, you may be eligible to file a claim to help pay for medical care and other damages. Call Burnside Law Firm as soon as possible after you are involved in a winter slip and fall accident to schedule a consultation. We may be able to help you win compensation for your injuries.
Posted on behalf of Burnside Law Firm LLP